FAU Haiti Mathew Rebuilding Task Force
Time to use our power as African Americans in help to the Haitian People = NOW!!!

Hurricane Matthew's toll in Haiti reached at least 271 people Friday, with 143 confirmed dead in the Grand' Anse region to the south, the director of the Office of Civil Protection told the Miami Herald.
"It's almost 300, and it will surely rise," Marie-Alta Jean-Baptiste said.
Read more here: http://www.miamiherald.com/news/nation-world/world/americas/haiti/article106635107.html#storylink=cpy
History Fact: Haiti had served as a place of asylum for runaways and free men and women over the years. This fact, plus its proximity to the United States and its history of self-liberation and Christianity, made the island attractive to black proponents of emigration. They stressed that since it was so close, emigrants would not be abandoning their enslaved brothers and sisters. White advocates saw Haiti as another site to which undesirable free blacks could be deported.
---
President Barack Obama speaks after getting a briefing on Hurricane Matthew during a visit to FEMA headquarters in Washington, Wednesday, Oct. 5, 2016.
YOU CAN HELP MAKE LIFE A LITTLE BIT EASIER FOR PEOPLE WHO DIDN'T HAVE A LOT TO BEGIN WITH.     President Barack Obama
Haiti is still recovering from the massive 2010 earthquake that killed as many as 200,000 people and post-quake United Nations Peacekeeper based cholera outbreak that has killed over 10,000 people.
After meeting Wednesday with representatives of the Federal Emergency Management Agency, the Army Corps of Engineers, the National Guard and others about the hurricane, Obama said he expected Haiti would need "substantial help."
---
WASHINGTON, Oct. 7, 2016 — U.S. military personnel began arriving on the hurricane-ravaged island nation of Haiti today to begin storm response efforts as Combined Task Force Hurricane Matthew mobilizes there, Navy Rear Adm. Cedric Pringle, commander of U.S. Southern Command's Joint Task Force Matthew, told Pentagon reporters today.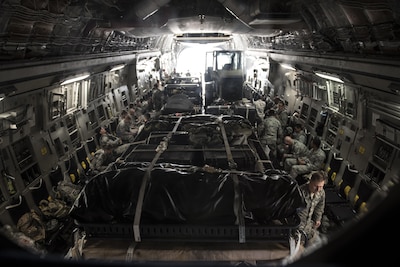 Speaking via teleconference from Port-Au-Prince,Haiti's capital city, Pringle said aerial surveillance yesterday revealed the extent of the damage.
"There's plenty of work to be done," he said, describing leveled homes, mudslides and washed out roads and bridges — especially along the nation's southern peninsula.
'All-Hands Effort'
The task force is working with the U.S. Agency for International Development to begin relief efforts. As troops arrive, work is under way to prioritize hurricane response efforts with USAID, he said.
"It's honestly an all-hands effort to restore some of the stability to the government of Haiti," Pringle said. Relieving the suffering of the Haitian people is critical, he noted.
"It's not just a [Defense Department] effort," Pringle said. "It's a whole-of-government regional effort," he said.
With troops flying in today, Pringle expects work to get under way this afternoon following the meeting with USAID. "At the end of the day, we should have [about] 250 personnel," he said, adding that he expects that figure to rise to 350 within about 24 hours.
"We expect a lot of the roads are just completely not passable either due to being washed away in mudslides, erosion and collapsed roads or debris … [and] a few bridges have washed away as well," Pringle said.
A couple of rivers overflowed and washed away infrastructure," he said, "so the damage is pretty extensive here."
Helicopters Critical Asset
Helicopters will supply the best mode of transportation around the island, he said.
The nine helicopters on Haiti, including CH-53 Sea Stallions and CH-47 Chinooks, comprise a critical element for supporting this mission," he said, "simply because of the terrain that we see here in Haiti," some of which is mountainous.
"With the helicopter footprint that I have here, we can certainly start the relief operations today," he said, adding that partner nations also are assisting in the efforts.
Though Navy ships and Coast Guard cutters have not yet been assigned to the Haiti mission, Pringle said he expects they will be when more accurate assessments of the rescue operations are determined. Ships, he added, could be assigned within 24 hours.
(Follow Terri Moon Cronk on Twitter: @MoonCronkDoD)